Our Projects include:
---
Restoration of 'Back Pride', Fall, 2016.
Part of the Albina Mural Project (1978-1983), lead by renowned Portland muralist Isaka Shamsud-Din, sought to create artistic cultural markers in the heart of Portland's African American community. In cooperation with Lifeworks NW and Project UMOJA, AAW brought in a team of 5 artists who are almost finished with the restoration of the mural depicting slaves and Malcolm X. The mural, located at 17th and Alberta, is one of Portland's oldest, painted in 1984 by Lewis Harris with help from the students of the Black Education Center that was once housed in the same building.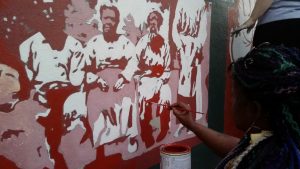 ---
---
Public Art Walking Map and Art Tours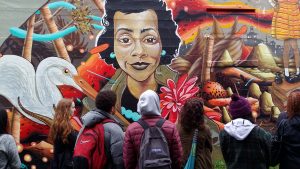 This summer, walking tours of Alberta's murals and public art finally began. We have been leading tours for schools and the public. We have teamed up with Tip Tour to provide an audible version of the walking tour for everyone to be able to learn more about NE Alberta's public art. During the tours we discuss what is sanctioned art, street art and discuss the concept of public art and public space.
Look for the Public Art Walk brochure at businesses and galleries on Alberta Street.
---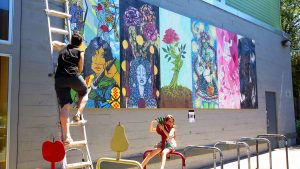 'Six Strong'
A mural project by women for girls everywhere. -Alberta Grocery Co-op parking lot, 15th & NE Alberta
Artists: Michelle McCausey, lead
Darci Johnson, Una Kim, Corie Hinton, Heidi Elise Wirz, Lucid Rose
---
---
Spraypaint Techniques taught by Jeremy Nichols
and Mural 101 classes.
---
Chaba Thai Project-Mural for Graffiti
Artists Kango and Mc Tools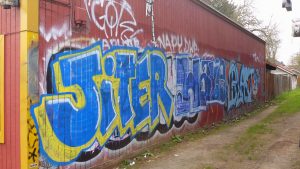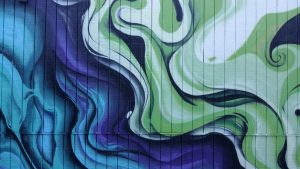 ---
Alberta Benchmarks Project
Through the City of Portland's Adopt-a-Landscape program, Alberta Art Works has taken over 8 bus benches on Alberta Street! Set to be re-done every two years, we are now approaching the two year mark, and are accepting submissions for the next round.

---
---
15th Ave ATM (Summer 2016)
Artist Selena Jones and Danny Ebru.
Using individual squares of hand marbled paper, Ebru collaged the sides of the ATM box and Jones created the tree sculpture that  lights up each night.

---
Storage Crate Makeover -NE Alberta & 32nd Place.

by artist Michelle McCausey.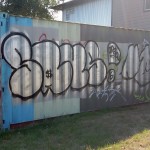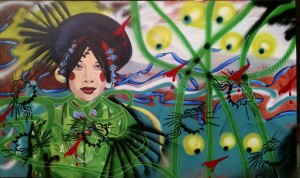 ---
Black United Fund of Oregon Mural Project: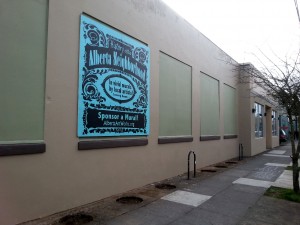 The Black United Fund of Oregon Mural Project is located at 2828 NE Alberta. The six murals are a celebration of Alberta Street's history, economic growth and diversity.
These murals celebrate and honor our past while bringing beauty and vibrancy to the east entrance of the Alberta corridor.
The BUFOR murals will be featured in a future in the public art map and tours of Alberta Street's public art, increasing community engagement, strengthening public commitment and promoting Alberta's cultural tourism.
History of Alberta St. – Panel Descriptions:
1  Chinook and Kalapuya –Commissioned Artist, Michael Feliz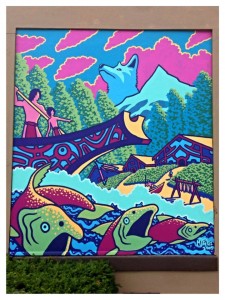 The first known people to settle this region. This piece pays homage to the Chinook and Kalapuya Indians.
---
2 German and Russian immigrants – Commissioned Artists, M3AT and Maquette Reeverts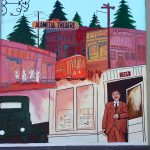 In the early 1880's German and Russian immigrants migrated from California to find work after being terminated from the Union Pacific Railroad Company. Many settled along the Willamette River including the NE Alberta Street District. The area evolved into a prosperous community – markets and retail businesses were open for business, streetcars ran up Alberta Street and connected the community; the area was thriving and expanding.
---
3 Vanport Flood  – Commissioned Artist, Carla Bartow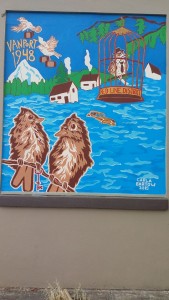 The Vanport, Albina and Alberta Street neighborhoods became a redline district or exclusionary zone for "Negros and Orientals" in which realtors, bankers and insurance companies were no longer allowed to conduct business in the area. Agents could lose their licenses for crossing this color barrier. The area was victimized by these practices that remained legal in Oregon until 1972 (and reportedly continued into the 1990s).
---
4.1 (Waiting for an artist – Click here to submit!)
Between the 1970's and 1990's, despite the presence of the old commercial buildings, very few retail businesses on Alberta Street were open for business. It went from a prosperous business district with a streetcar line to mostly light industrial with no public transit. Absentee landowners scooped up properties and held them during this period, leaving them mostly unkempt and in varying states of disrepair. The area continued to decline in the 1970's as gang violence and drug use on the street increased. A television reporter had deemed Alberta Street "the most killing street in Portland" in the spring of 1997.
4.2 In the 1990 revitalization began with Roslyn Hill and Roslyn's Garden Coffee House, leading to her buying and fixing up a dozen more buildings.
4.3 Revitalization continued in 1996 when the city's Bureau of Housing and Community Development Corporation and the Portland Development Commission made Alberta Street part of the Corridor Target Area Program, funds were provided to Sabin Community Development Corporation to hire a coordinator and they began to organize the community. Three citizen committees formed as a result; Commercial Revitalization, Street Beautification and Streetscape and began to act. The Streetscape Committee wrote a grant for Transportation Growth Management funds and the Alberta Streetscape Project was born in 1998.  Even in those early stages the community said loud and clear that they wanted art to play a central role on the street through murals, public art and beautification projects.
---
5 Last Thursday: (In Progress!) Matt Schlosky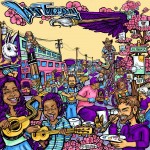 Poised for change the neighborhood embraced the new art walk that began in an attempt to bring visitors to our side of the river. Last Thursday was born and grew up an unrestricted, do-it-yourself event with no management or oversight for 14 years. A community volunteer group, Friends of Last Thursday began to manage the event in 2011, as a result of the city's challenge to the neighborhood to bring some control and services to the event.
---
6 Alberta Street Mandala: Commissioned Artists: Linda Dalal Sawaya, lead artist, with Anne Mansfield.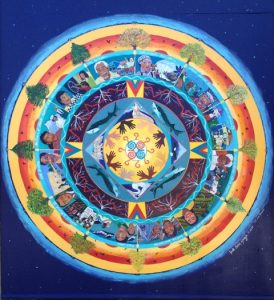 A collaborative piece representing the flow of time and featuring a host of prominent figures from Alberta Streets past and present. For more information on this mandala, and mandalas in general, see the description here.
---
   Your generous donation will be 
used to
commission 
 murals and is tax deductible!
Murals add cultural, social, and economic value to Neighborhoods.
Art adds uniqueness and humanizes our buildings.
Murals invigorate our street and can retard graffiti.
They are an intersection between past, present and future.
Murals are free & accessible public art.