a radically open call to artists.
We keep artists in the neighborhood.
 The members of AAW are catalysts for creating public art by local artists to
celebrate, beautify and create community.
We work to find pay for our artists to enhance our shared landscape, reclaim walls, raise pride
and tell stories of our present and past while being an efficient graffiti abatement program.
---
The Walking Tour Maps are in!! (and the tours have begun…)
AAW is working with Tip Tours to bring you an interactive walking
tour of NE Alberta Street's public art works.
Pick up your copy and discover the neighborhood.
---
---

Your donations are tax deductible. Thank you.
A day to celebrate all the good happening in our neighborhood!
Alberta Art Works is a volunteer driven, registered non-profit, working to create, initiate and nurture art, artists and art education in our community. The arts are a vital component of our economic development, culturally aware citizens and a more creative and exciting quality of life for all.
---
The Restoration of 'Black Pride'
In collaboration with Lifeworks NW and the House of UMOJA, AAW will volunteer their services to restore one of Portland's oldest murals and return it to our greater community.
Painted by Lewis Harris and the students of the Black Education Center, this mural was painted during the Albina Mural Project (1978-1983), lead by renowned Portland muralist Isaka Shamsud-Din, and sought to create artistic cultural markers in the heart of Portland's African American community (NE Alberta & Vancouver). The Malcolm X Mural is one of the last surviving murals of this era.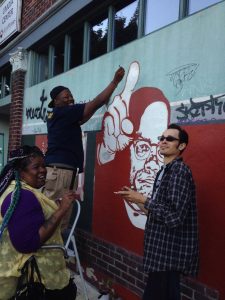 ---
---
Thank you to all our Community Heroes! 

We can't do it without you, our community!