---

Grow your audience and get fans!
Sign up in the regional Artist Registry .
This way we can promote you as a locally sourced artist for commissions, projects, jobs and to help further connections and collaborations. By developing artistic partnerships and cooperative projects we will create more opportunities and support for art activities in the Alberta District.
In turn, these arts will expand economic development, enhance culture and civic improvement, thus improving everyone's quality of life.
---
Alberta Benchmarks
Now open for idea submissions! 3 benches still need artists.
Through the City of Portland's Adopt-a-Landscape program, Alberta Art Works has taken over 8 bus benches on Alberta Street!

Be one of the artists!  We are looking for dazzling visual thoughts that engages the pedestrian. Keep in mind that designs with large open fields of color tend to attract tagging and are less likely to be selected. Artist pay is $100 + (possibility of partial sponsorship money up to $150 more).
---
---
AAW would like to switch out a 4'x8′ vertical mural panel with the seasons. Currently a mural painted by Daniel Buchsbaum from the Mexican Toy Museum, Mexico City, graces our street. He painted his interpretation of the American holiday, Halloween. But, spring is here…. Send us your concept sketch to be considered. AAW will contact you if your design is selected. The panel hangs next to the American Legion on SE corner of 21st & Alberta St.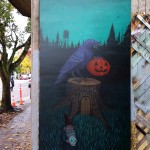 Click here if you'd like to submit your design!
---
---
Black United Fund of Oregon Mural Project -Last Panel!

-2828 NE Alberta.
Call for Submissions: Black United Fund of OR Mural Project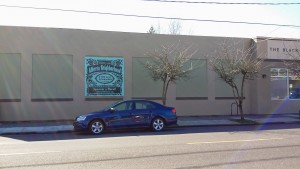 Artists are paid $400 for the finished 8'x8′ panel.
(Enter your submission for BUFOR here)
Please label your images with your last name and the project name please.
Only one panel left needs to find an artist….
Selection: Artists are chosen based on overall aesthetic quality and representation of the theme. Does the proposed sketch tell the story of a specific point in time in an easily understood and beautiful way? AAW is looking for thought provoking submissions that tells part of a story that speaks to a broad community.
All entries will be considered. The selection of the final artists is at the discretion of the committee. The committee may reach out to potential artists with notes and clarification as needed. Once the committee selects an artist the approved design will be sent to the director of the Black United Fund of Oregon for final approval. AAW will contact you if your design is selected.
Theme: events and times in the history of the Alberta area. The murals will celebrate our neighborhood and honor its past.
OPEN panel: Between the 1970's and 1990's, despite the presence of the old commercial buildings, very few retail businesses on Alberta Street were open for business. It went from a prosperous business district with a streetcar line to mostly light industrial with no public transit. Absentee landowners scooped up properties and held them during this period, leaving them mostly unkempt and in varying states of disrepair. The area continued to decline in the 1970's as gang violence and drug use on the street increased. A television reporter had deemed Alberta Street "the most killing street in Portland" in the spring of 1997.
In the 1990 revitalization began with Roslyn Hill and Roslyn's Garden Coffee House, leading to her buying and fixing up a dozen more buildings.
 -Revitalization continued in 1996 when the city's Bureau of Housing and Community Development Corporation and the Portland Development Commission made Alberta Street part of the Corridor Target Area Program, funds were provided to Sabin Community Development Corporation to hire a coordinator and they began to organize the community. Three citizen committees formed as a result; Commercial Revitalization, Street Beautification and Streetscape and began to act.
The Streetscape Committee wrote a grant for Transportation Growth Management funds and the Alberta Streetscape Project was born in 1998.  Even in those early stages the community said loud and clear that they wanted art to play a central role on the street through murals, public art and beautification projects.
 Alberta had a vibrant music scene with several venues keeping it lively. Part of the neighborhood and yet a great escape. Music played a big role in many lives.
---