---
So, you say you want a mural?
STOP paying buffers! Pay an artist instead.
It's the best graffiti abatement program out there! 
Let us help you. We have a team of muralists ready and have several options for replacing graffiti with a vivid mural on your problem wall.
Option 1: Panel Mural – wood panel murals are easily removable to be displayed elsewhere, have a UV protective varnish and are easy to clean if tagged. Costs: $175 per 8'x8' panel + the artist fee of $250-$350.
Option 2: Wall murals – painted directly onto the building surface/wall. Costs: $300-$900.
You, the business owner, would have input and the final say in the design.
If your business is unable to find the funds for a completed mural project on your building, not to fear. AAW has a cue of interested businesses and as funds come in the next business on the list will have their mural commissioned. If you can afford half of the costs we can help find a matching sponsor needed to complete the project
Contact us for a mural agreement form and let's get started!  Maquette@AlbertaArtWorks.org
---
Be a part of the Alberta Street Public Art Map!
Your support of $100 will help our future artistic endeavors and will land your logo on the new public maps.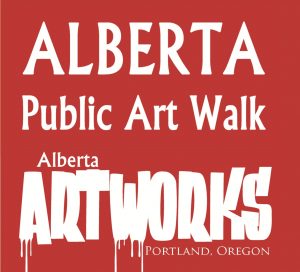 Click here to include your business logo on the 2017 Summer printing.
Your logo will be placed on your business' location on the public art map for 1 year. Maps will be updated as new work emerges and maps will be printed and replenished at locations as needed.
---
---
Be a hero in our neighborhood
sponsor a mural on the Black United Fund of Oregon building!
General Donor: Any amount is appreciated!

Mural Panel Sponsor: $175+
This amount pays for an 8'x8′ panel, hanging hardware and a final coat of UV and graffiti protecting varnish. Sponsors will be thanked publicly on the BUFOR building and on our social media.
Artist Sponsor: $350+
This amount pays the talented artists and gives a stipend for materials. This level receives recognition via our social media and website and a signed print of the Artist's mural design, as well as a VIP invite to a future AAW event. This level also entitles you to a small plaque directly below the mural panel. Two contributions at this level are allowed to sponsor a single artist. In this case, you would also receive shared space (with the other contributor) on the permanent plaque.
Community Hero: $675+ purchases a completed mural! –Sponsors filled.

---
Alberta Benchmarks Project
Local artists have painted 8 slatted wood benches along NE Alberta Street. The benches were part of a rejuvenation project in 2000 but have since been long forgotten and untended. Alberta Art works in conjunction with Portland Bureau of Transportation, has adopted the benches and has taken these eyesores and replaced them with utilitarian public works of art.
Sponsor a bench for $150 and your name, business name or dedication to will be painted onto the back side (sidewalk side) of the bench (2 slats at 1′ in length, enough for your name and address or website) in gratitude of your donation to making our neighborhood even more interesting and artistic.
Please go to the STORE to sponsor this or any of our creative projects.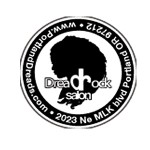 Thank you Dread Rock Salon for sponsoring 2 benches!
---
Barricade Rentals- 
We have barricades to rent for your next street party!
Type II        $ 2.50  Road Closed 
Barricade  $ 5.00   Type III
email: Maquette@AlbertaArtWorks.org for a rental form to reserve yours today!